Me. Ow.
I was trying to come up with fun blog ideas and it hit me: what's the number one most fascinating new development in pop culture? The cougar. Sure, Mrs. Robinson has been around for awhile but cougars, those are a new breed. Cougars conjure up a completely different image that makes Mrs. Robinson look meek and milk. Predators hunting for their prey, not with razor sharp teeth and a husky growl (well, actually...) but with the following accessories:
(In no particular order)
5.
A tan.
Not just any ordinary healthy glow, but a deep burnt orange color, perfected only by years of sun worshiping in the glorified tanning bed. The cougar usually gives off a powerful coconut tanning oil scent, lingering long after she makes me attack. A crumbly bronzer compact and shimmering body spray are but added weapons of mass destruction.
(Picture from the upcoming movie
Bride Wars
, which I'm not so secretly dying to see)
4. Speaking of mass destruction, no cougar is complete with a set of powerful devices:
"augmented" breasts
. No longer continue with an old-fashioned boob lift, these puppies must be lifted to mythic proportions, bolted on firmly, and stretched to the size that would make Pamela Anderson jealous. A tummy tuck often follows to ensure that the 26 whittled waist accents the 42 inch bust line on a 5'3 frame.
(Not sure who this woman is--apologies to her family and dress-maker).
3. Looking for just the thing to emphasize your tiny-ness while proclaiming you've got the best money can buy? Look no further, cougar.
The Hummer is your car of choice
. Sure, you're not exactly navigating through jagged terrains or high altitudes, but that Target parking lot is scary enough. Wouldn't want Grandma in the Corolla to get the wrong idea and steal your prime sparking spot. Rear view not included since you won't be using it anyway. Just cross your fingers and hope you don't mow down any unsuspecting strangers outside Kirkland's. Feel free to exchange any other mirrors or turn signals for a Route 44 Diet Coke from Sonic or an over-sized sunglasses case.
(*Matching mani and pedi not included with sticker price).
2. Let's get back to practical matters. No cougar would be compete without her stunning visage. Years of hard partying and yo yo dieting don't matter when you've got botox to freeze your forehead and lipo to alter gravity. Number one rule of a cougar:
if it ain't broke, fill her up
! Trout pouts are essential to the cougar's allure, layered with Victoria's Secret newest plumping lip gloss. Feel free to mix and match various products from the Wet n Wild line you've been using since tenth grade.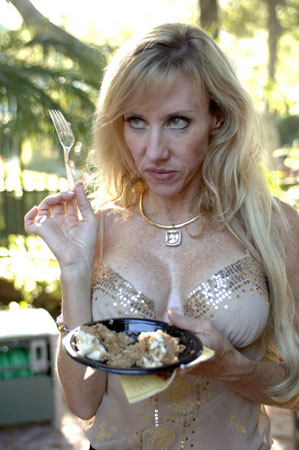 (Yes, that is a real person. Kim Bryant of
The Real Housewives of Orange County
AKA Cougar Diaries)
1. What cougar would be complete without her mane?
A bleach blonde weave
is necessary to attract men from behind (tight white jeans also come in handy). Roots are no problem as long as the hair extends far past the shoulders, often in varying shades of flaxen. Brunette extensions are acceptable too but must be paired with highlighting or a monotone effect. The weave is the perfect accessory to deflect men from noticing your mutton dressed as lamb appearance. Who needs age appropriate-ness when you've got Jessica Simpson's Clip 'N' Go Line!
(See Kim Zolciak of
The Real Housewives of Atlanta
on the left).
Bonus:
Favorite Non Cougar:
Diane Lane: Who doesn't love her? Well, besides that guy she's divorcing...
Favorite Cougar: Mostly because she is the craziest woman on the planet and can't give up the fact that she's no longer 20 years old. Also has the best damn trout pout any fisher man has ever set sights on.